I'd like to take this opportunity to thank you for considering the LadyStar™ fantasy adventure series. LadyStar for Warrior Moms and Warrior Dads will take no longer than fifteen minutes to read. It will describe why I believe the LadyStar series is important, and why I think my characters will serve to inspire, strengthen and encourage young readers like your child.
When we started this project all the way back in the summer of 1998, we knew we were setting some pretty ambitious goals for ourselves. My artists, my editor and my technical staff are some of the best in the world at what they do, and now I believe we've succeeded in launching one of the best action-adventure book series available today.
My name is Shane Lochlann Black. I'm a science-fiction and fantasy adventure author. I've been writing professionally for video games, television, major corporations and my own publishing company for more than 25 years. I've written and published more than 90 books in the last seven years. I've worked in animated television, children's educational and interactive software and merchandising and licensing for numerous popular characters. I hold the degree of Bachelor of Arts in English Education. I'm academically qualified to teach the English language up to the high school level. My university emphasis was creative writing. Both my parents were award-winning television and newspaper journalists, so I come by my writing talent honestly.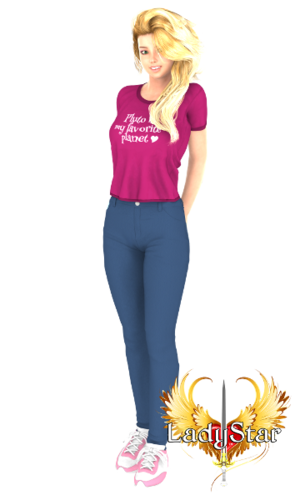 When I first set out to bring Jessica Halloran and the Ajan Warriors to life, I was in the process of writing an episodic video game script. My company had invented a point-and-click adventure playable in a standard web browser. I needed characters and a story.
My first thought was to license another company's characters, but that proved to be more expensive and time consuming than I thought it would. So I created a story world called LadyStar.
My first adventure game went on to rather impressive success given its limited production values. It became clear after a while that the characters and world I had created were far larger and had far more potential than just one game. As I explored all the options available to me, I adapted the story to other media and watched it grow. We published a print manga. We published a web comic with more than a quarter million readers. We produced a full line of licensed merchandise. We recorded an audiocast. I wrote a 79,000-word novel which remained my best-selling book for three years. Each time we developed and released a new product, the story got stronger, the characters became more interesting, and the world they inhabited became more vivid. All we needed was something to bring it all together.
So in January of 2017, I sat down to a blank screen to reboot my series. I wrote an original full-length fantasy adventure novel called Dawnsong The Last Skyblade. I believe it is the finest work of my career so far.