Remember when I was asked to describe LadyStar in only a few words? It's much easier to describe my main character than it is to cover the whole story, because Jessica Halloran is easy to recognize. I wrote her to be a "human ray of sunshine."
I have been frequently distressed at how mean many fictional characters have become over the years. When I was growing up, I had Looney Tunes and Mister Rogers to look forward to on television. While those cartoons sometimes got a little rambunctious, there was never any bitterness or gloom in them. Fred Rogers remains one of the greatest role models in the entire history of television. Not once did Mister Rogers' Neighborhood ever have a negative message for viewers.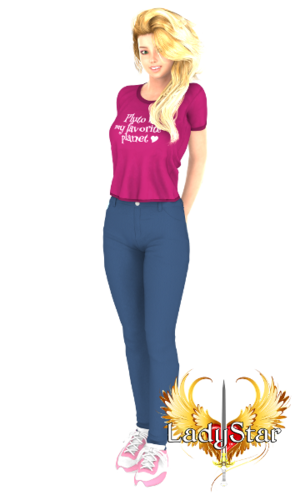 The LadyStar story has a positive moral core because of Jessica. She is relentlessly optimistic and positive. Her friends call her a "goofball." All of the girls do their fair share of teasing each other, but when push comes to shove, Jessica is almost always the reason the LadyStar characters prevail in the face of peril. She's their heart. But there is more to it than Jessica's happy personality.
In the story, Jessica wields a magical sword called Dawnsong. It is a weapon of nearly limitless power. Initially, it is disguised as a golden ring. Over the course of the first book, Dawnsong: The Last Skyblade, the characters discover that both the ring and the sword respond to honor, valor and selfless acts of kindness and goodness. When Jessica helps others, heals her enemies, tells the truth and avoids subterfuge and treacherous behavior, she becomes more powerful. She is literally a source of light in the story, since several of her magical abilities cause her to give off a soothing golden glow. One of the key symbolic images in LadyStar is the fact Jessica is never in the dark.
This isn't to say Jessica doesn't run into obstacles. The necessity of her moral foundation leads her into more than a few dilemmas through her adventures. The other characters' powers aren't bound by the same kinds of restrictions on their behavior, so they sometimes push the boundaries and force Jessica to continually examine and sometimes adjust her approach. In the process, the other characters learn that sometimes the ends don't justify the means and vice versa.
The moral journey the LadyStar characters take is just as important as the choices they make. I believe this is the essence of any coming of age story. Jessica can bless and strengthen her friends, not only making them stronger but amplifying their powers as well. This ability not only reinforces her role as the positive and encouraging member of the group, but it also underlines how important teamwork is.
When Jessica and any of her teammates work together, they get more powerful. When Jessica and the whole group work together, they can accomplish the impossible, and frequently do just that. Jessica doesn't lie. She never uses violence unless necessary. She prefers to defend instead of attack. She eschews subterfuge, disguise, poisons and deception. She almost always announces herself and challenges her enemies face to face. She is charitable. She gives away most of the wealth she is given. She shows mercy and gives quarter, sometimes to a fault. These values sometimes put her at odds with her friends, but for Jessica, doing the right thing always prevails.
Now, what if they were all heroes?