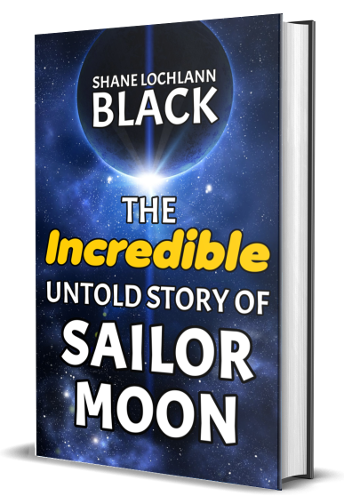 Sailor Moon changed the world. Now the impossible, the improbable and the Incredible untold story can finally be told!
Reconnect with the power of love and justice and discover the thrilling secret history of the worldwide anime revolution with this one-of-a-kind chronicle of Naoko Takeuchi's international triumph and the most influential animated television series in the last 25 years!
Journalist, author and former DIC Entertainment Interactive Marketing Consultant Shane Lochlann Black brings together entertainment executives, national correspondents and bestselling authors, including three-time Emmy® Award winning former DIC Entertainment Chairman and CEO Andy Heyward, Irwin Toy CEO George Irwin and key personalities in the English-language anime fan communities across the United States and Canada to look back at the struggles and victories of one man and his vision for the future of animated children's television.
Did Disney own Sailor Moon for five years and not know it? What is the secret connection between Sailor Moon and the Power Rangers? Was it really a Cartoon Network show that helped properties like The Avengers and World of Warcraft build multi-billion dollar markets worldwide? Was a 14-year-old superhero really part of the second-largest corporate merger in history? Did Sailor Moon really help make Cartoon Network the #1 cable channel in America?
By 2017, the worldwide anime licensing market exceeded $60 billion. Wonder Woman, Black Widow and Rey from Star Wars rule the box office. Hermione Granger, Katniss Everdeen and Beatrice Prior are iconic literary characters. Girl heroes are everywhere.
Was it all because of Sailor Moon?