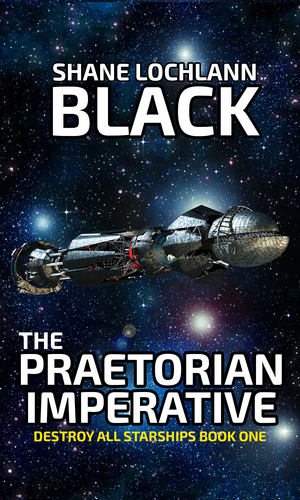 I have for some time considered writing a series involving a wide-scale fleet action, and I'm pleased to report I got a start on it this week. Naturally this will not proscribe continued work on Starships at War. I have at least two more books on deck for that series.
First Praetorian is the historical conflict Skywatch faced in the early era of the Core Alliance. It was my universe's "Jutland in space." In this new series, called Destroy All Starships, the defeated Praetor's shattered belligerents gave way to several smaller collectives of like-minded citizens, one of which is the Victorian Confederacy, situated in three small star systems just beyond the Magellan Frontier. The story in this series will recount the first "aftershock" of the Praetorian war.
The adversaries in the new books will be an aggressively unified front consisting of two already-introduced races, the Sarn Star Empire and the Yersian Unity, along with two new races, the Kraken Decarchy and an as-yet unnamed faction which will be found with Ithis weapons and technology at a crucial point. All of the enemy races will be armed with unique weapons, both ship-mounted and individual, and will have tactics to match.
Our heroes will be joined by the Proximan Kingdom, a feline race with a strong affinity for the code of chivalry and certain medieval sensibilities updated to reflect their advanced exploration and scientific capabilities. All Proximan soldiers are trained with the sword, and I think you will all approve of the direction I'm taking that most ancient of weapons. I'll give you a hint: their swords don't glow.
Many characters from Starships at War will return, and will find themselves fighting alongside some new allies, including several new starships, more than a few new ship types, some new technology and weapons, and a fair number of unexpected encounters in deep space. There will be a lot of exploration and discovery in these books, which will make the story just a bit more like "where no man has gone before" while packing in more of the non-stop action you have all come to expect. I'm told action and dialogue are my strong suits, so that's where I plan to invest most of my focus.
The artificially intelligent gunships I introduced in Fleet Commander Recon have evolved considerably and will be paired with properly trained crews to perform some highly entertaining feats of legerdemain. We're also going to do some large-scale surface engagements, so the Skywatch Marines will get some time in the spotlight too.
The Praetorian Imperative will be going on pre-order shortly. If you are on my mailing list, you'll get advance notice and a discounted price. I'll throw a couple sneak peek chapters up in the Library-Tron too.
I'm planning at minimum a trilogy, so expect an announcement on book two relatively quickly afterwards.