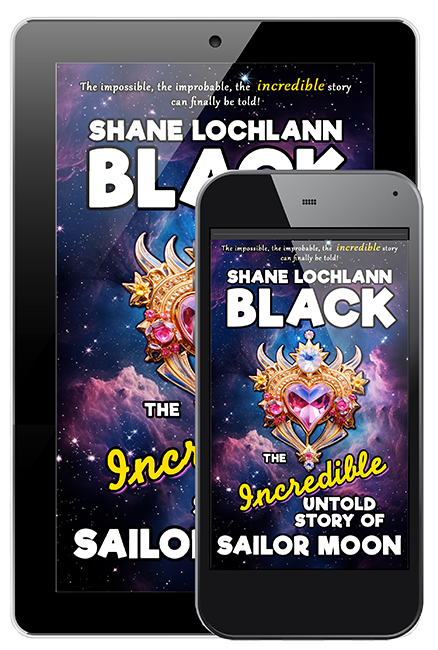 Gather 'round. I'm going to tell you a story of ancient times when the geeks of the world had to discover their animated television shows using strange technologies and great patience.
Television signals used to be transmitted on the same electromagnetic spectrum as radio. Channels were actually "frequencies." Television sets were just big radio receivers designed to pick up those frequencies on certain pre-determined channel numbers and display whatever was transmitted on the screen. Televisions were big mobile phones. They even operated in roughly the same broadcast bands.
One of the problems with early television was a lot of companies wanted to build TV stations and broadcast their own programming, but there wasn't enough room on the electromagnetic spectrum to fit the channels. The Federal Communications Commission (FCC), which was in charge of licensing television broadcasts, had only opened up frequencies in the VHF or "Very High Frequency" band.
But there was a second band called UHF or "Ultra High Frequency" that had roughly half the range of VHF and was only included on some TV sets. This was where everyone except the big networks had to go if they wanted to broadcast a television signal. It was the band for "independent" television stations.
UHF didn't do very well until the All-Channel Receiver Act of 1964 mandated that every television set had to be manufactured with the ability to receive television broadcasts on all channels, including both VHF and UHF. Now at least those UHF stations could be certain their signal would be received by every new television.
PBS, foreign language channels like the precursor to Univision, various religious channels and other independent broadcasters sprang up all over the country. In 1970, a guy named Ted Turner acquired Atlanta, Georgia channel 17, which eventually found its way to satellite and became TBS, the "Superstation." Fox Television was formed by assembling a number of disparate UHF stations into a fourth commercial network.
On the UHF band there was a station in Southern California called KBSC Channel 52. "This is Kaiser Broadcasting, KBSC-TV channel 52, Corona-Los Angeles." They started their day at three in the afternoon and ran until midnight. The shows they chose to broadcast may very well have given birth to geekdom in the greater Los Angeles metropolitan television market.
Their headline show was "Speed Racer."
They also had "The Underdog Show" which was a series of short cartoons. Underdog episodes bracketed a 30-minute broadcast including intervening shorts starring Tennessee Tuxedo, Commander McBragg, Go-Go Gophers and various other characters produced by Gamma Productions. Channel 52 also had Kimba the White Lion, The Three Stooges, The Little Rascals, Felix the Cat, Ultraman, Gigantor and Giant Robot.
If you are wondering why video games, animation, comic books and weird television shows have taken over entertainment in the 21st century, it's because everyone in charge of the entertainment business now in 2014 grew up watching channels like KBSC Channel 52. When they got older, they all took up Dungeons and Dragons. Then they got jobs running entertainment companies.
Channels like KBSC 52 are also where every single one of them discovered anime.
I know it's hard to imagine, but this was a time when there was no such thing as an anime convention. There was no Star Wars. There wasn't even record-able television. The VHS video recorder was years away. There was an Internet, but there were about 19 people with access to it and 18 of them were college professors. There was literally nowhere else in the world except Japan where a kid from Southern California could see anime.
But once they discovered it, they discovered something about cartoons they hadn't previously realized was even possible. Cartoons weren't just funny. They were cool. The Mach Five was a revelation to the average ten-year-old boy. A car with super-powers? Sold. They didn't even care what the show was about any more. All they wanted to do was get to the next episode so they could see what else Speed Racer's car could do. After all, there were seven buttons on that steering wheel!
Speed Racer also had a unique animation style. Viewers in America got it at once. They understood what the animators were trying to get across, and they responded by desperately wanting to become obsessive Speed Racer fans. This vaulted them into being fans of just about everything else from Japan, including all those great toys that were too expensive for their parents to even consider buying. That stopped none of them from wishing they could own the die-cast painted steel Mach Five with real rubber tires that was about the size of the average radio-controlled cars soon to be marketed to those same boys. Oh sure, it would cost $300 and have to be shipped on a cargo boat from some faraway land, but they didn't care. It was the Mach Five!
What followed was rather predictable. Godzilla became a household name. Johnny Sokko and UNICORN were sudden superstars. Everyone who grew up watching Channel 52 remembers the giant eye and the rolling iron ball with arms and legs from Giant Robot. Underdog was awesome. They watched the same nine episodes of Little Rascals for months. Why, they even became fans of roller derby, even though nobody seemed to be able to explain the rules. Nobody cared. It was on Channel 52. It was cool because it's the same channel Speed Racer was on.
KBSC Channel 52 Corona-Los Angeles was the original Toonami.
Fast forward twenty years. It's not broadcast television any more. Now it's all about cable, and there was a fast-growing little channel called Cartoon Network getting ready to knock cable television on its ear.
In 1986, Turner Broadcasting (remember Ted Turner buying that UHF station in Atlanta?) bought the MGM Film Library. Included with it was a collection of cartoons like Looney Tunes, Merrie Melodies and Popeye. Later, Turner Entertainment bought Hanna-Barbera and added Scooby Doo, The Flintstones, Yogi Bear and The Jetsons. They suddenly found themselves owning one of the largest animated television libraries in the country with 8500 hours of programming. So what did they do with it? Simple. They started a cable channel with nothing but cartoons.
Cartoon Network was by no means the only channel interested in capturing the ever-profitable children's broadcast market. Nickelodeon had several successful shows of their own, including Doug, Ren and Stimpy and Rugrats. They would later go on to bring a certain sponge to animation, but that's another chapter. The Disney Channel and the Family Channel had also thrown their hats in the ring. It was going to be a short, expensive and rather angry competition, but the late 1990s was shaping up to be the battle of the cartoons.
Except that one of the competitors had an insight and an historical perspective the others lacked.
Events in the early 1990s and the deal that brought Sailor Moon to the United States and the English-language television market had placed anime squarely on the radar screens of those who were taking the time to pay attention. By 1996, Sailor Moon's syndication deal had run its course and the fortunes of the show were beginning to lag behind others of its type. What DIC and Program Exchange didn't realize at the time was the transition of the television industry was about to give them an opportunity they couldn't possibly have envisioned when the first plans to broadcast Sailor Moon in English-speaking territories were drawn up.
Cartoon Network's first completely "ridiculous" idea was Space Ghost Coast to Coast. This was essentially the first YouTube parody. It featured a bunch of re-purposed superhero animation footage intercut with live "guests." It was snarky and silly and a gigantic hit with exactly the wrong audience: adults.
Turner Broadcasting was not a company terribly interested in the status quo. Ted Turner had always been a maverick, and his tendency to do things that didn't make any sense to his colleagues or the rest of the industry was well known. He was the first to bring the world 24-hour news coverage. He was also the first to bring the world 24-hour cartoons. Some might argue one had more than its share of influence on the other, but nobody can argue with the success of either approach.
A note was made on someone's desk in someone's important notebook that maybe they ought to do a little thinking about this whole "cartoons for adults" thing. It didn't take very long.
Cartoon Network Studios was the source of the What a Cartoon! show. It was 1995. The idea behind What a Cartoon! was to invite independent animators to put something new and interesting forward. Cartoon Network had actually taken a first step towards putting creative people in charge of being creative. "Lunacy!" shouted the other stations and companies. "Only executives and rich people are capable of entertaining the masses!" "Well," replied Cartoon Network, "we'll just have to see about that."
The first show they came up with was Dexter's Laboratory. It was rapidly followed by Johnny Bravo, Cow and Chicken and later shows like Courage, the Cowardly Dog and The Powerpuff Girls. All of them were later combined to form Cartoon Cartoons. They would go on to make animation a prime time ratings powerhouse.
Cartoon Cartoons were an industry-changing milestone. The reason was the creators of these shows were able to synthesize animation entertaining for children with writing entertaining to their parents. This was a wild idea that would have been absolutely impossible to even discuss if Cartoon Network had been trying to program a broadcast network. But, cable television wasn't regulated by the FCC, so they could get away with things broadcast networks couldn't even touch.
Using this synthesis model, the first punch Cartoon Network threw basically knocked their competition cold. The reason was they weren't trying to come up with programming for kids. They were trying to come up with programming for whoever would watch it. This forced them to think in ways that weren't familiar to traditional animation production companies. That's why they were able to create shows about flying five-year-old girls beating up villainous monkeys.
But more than this was the fact there was a unique energy to it all. Fans of one show were very often fans of several shows for roughly the same reasons. When an episode of Dial M for Monkey came on, a viewer could almost sense the echoes of The Powerpuff Girls and Dexter's Laboratory in it. All of the shows benefited from this effect. Johnny Bravo and Courage even saw increased interest. It gave these new upstart shows a sensibility and an edge that other animation seemed to lack. It was almost as if the creators of the shows understood their audiences. Well, it turns out they did understand their audiences much better than anyone thought.
With the success of these original shows and the growth of the network as a result, Cartoon Network had already caused a huge shift in the entire business of animated entertainment. Then, in 1997, at almost exactly the same moment Sailor Moon's syndication deal had lost most of its energy, Cartoon Network began airing a block of programming called Toonami.
Sailor Moon's history in the 1990s was one of timing. The character set off a merchandising explosion in Japan at precisely the right moment to change the course of the American comic industry (and, as it turns out, everything else in entertainment), the show came to the United States at exactly the right moment to serve as the vanguard for the anime movement of the late 90s and early 21st century, and now, it was running out of syndicated mojo at exactly the right moment for Cartoon Network to say "hey, what if we put some anime shows in a new action block on our network in the afternoons?"
Every entertainment industry veteran knows their business is all about timing. As Bill Moyers pointed out in Empire of Dreams, a documentary of the making of the original Star Wars Trilogy, (paraphrasing) "If you bring Star Wars out too early, it's Buck Rogers. If you bring it out too late, it doesn't capture our imaginations. But if you bring it out right when the [Vietnam] war is ending, when the old stories have died. Suddenly, it's a new game."
Cartoons and animation have always prospered when their timing is right. In the 1970s and 1980s, the best cartoons were always on at about three o' clock in the afternoon, when all the kids were getting home from school. That, or Saturday morning, when all the kids were eating breakfast. This was the golden age of the children's television trifecta: breakfast cereal, cartoons and toy commercials.
Remember KBSC started its programming day at 3PM. That wasn't a mistake. They knew their audience. Their scheduling approach, however, would only work if they could coordinate it across a network. This was the key thing Cartoon Network could offer Sailor Moon that a syndication deal could not. David E. Nelson pointed out the differences between the syndicated approach and the network approach when he said "the different manner in which Irwin's toys [and Sailor Moon in general] performed in the US and Canada really reflects the exposure that audiences in each country got to the show itself, due to the different distribution philosophies used in each country." His insight would later prove true. When the relative success of the syndicated version of Sailor Moon is compared to the Toonami version, the results are beyond dispute.
These observations were not lost on Cartoon Network. The idea of running cartoons 24-hours-a-day was incredibly silly from an advertising standpoint. Nobody is going to run a toy commercial at 11:30PM when every single kid in America is asleep. But they all knew a toy commercial broadcast eight hours earlier was a wheelbarrow full of solid 24-karat gold coins with pictures of money stamped on them.
Cartoon Network had taken two swipes at the "action afternoon block" concept before. It started as the "Power Zone" which was version two of "Super Adventures" which debuted when the network signed on in 1992.
Even in 1997, the Toonami lineup was pretty grim. Voltron, Jonny Quest and The Thundercats were scheduled alongside a witches brew of weird re-purposed leftovers called Cartoon Roulette. The show was hosted by Moltar, a villain from the original Space Ghost show.
One year later, they discovered anime. More importantly, they put it on the air at 4PM nationwide. Leading the block was one Sailor Moon aka Usagi Tsukino and her 82-episode two-season show that until then had been obscured by unfortunate syndication scheduling. Anchoring the other half of the two hour lineup was Dragonball Z, an anime series consisting of about 18,000 episodes which was essentially Sailor Moon for boys.
Remember that first punch when Cartoon Network knocked all their competition cold? This time, they took an iron fist the size of Mount Rushmore and smashed the competition flat. Dan Bednarski, publisher of a prominent Sailor Moon fan site said "chances are that the majority of people who are asked when they first watched Sailor Moon will answer they saw it on Toonami." This is true of a number of series. The spotlight was brightest at the 4PM and 5PM anchor slots.
Once again, Cartoon Network was about to benefit from advantageous timing. While they were assembling the pieces of Toonami into a legendary weapon, Time Warner, the company that had purchased Turner Broadcasting (and Cartoon Network) in 1996 had been experimenting with its own kids programming block called Kids WB. It didn't work out as well as Cartoon Network's version, but it did feature a little show called Pokemon. The first broadcast of Pokemon in the U.S. was September 8, 1998, only a few months into Sailor Moon's run on Toonami.
What Pokemon did was bring a marketing angle into the world of U.S. adapted anime that was simply brilliant. There was a collectible card game, video games and merchandise of every kind. The frenzy among the exact market sought by shows like Sailor Moon and the rest of the Toonami block created a positive feedback loop that resembled one of Dragonball Z's five-episode power-ups. Pokemon was about pets, which appealed to girls. The pets fought each other, which appealed to boys. It had an "evil genius level 12" marketing plan, which was collectible pets. And it was a TV show, video game and merchandising campaign all at once. Pokemon swept the land like a push broom.
By 2003, Pokemon was worth more than the gross domestic product of Denmark. Thirty billion dollars. It took five years. Any fan of Pokemon looking for more anime to watch didn't have to go far. Cartoon Network had coincidentally just started scheduling anime five days a week in the Toonami block.
The results were immediate, but not just because Pokemon was making a lot of money. Everything converged around Sailor Moon at exactly the right moment.
Sailor Moon had an unparalleled Internet presence, which meant anyone who "found" the show could find volumes of information about it.
Sailor Moon was also a top 100 Usenet group.
Sailor Moon was on at the exact center of kids prime time: 4PM weekdays nationwide.
Sailor Moon was on what was about to become the number one cable channel in the United States.
Add to these the fact it was the show that had spearheaded a ten-figure merchandising blitz in Japan, and you had the perfect set of circumstances for a breakout hit.
These events should not be too quickly overlooked, because they demonstrate something unique about the entertainment business. Toonami was Sailor Moon's "Silver Age." The Golden Age was its original run in Japan. In the space of one year, Sailor Moon had gone from a largely failed syndicated show to one of the anchors of the most dynamic programming block in all of children's television. It was the second act to end all second acts. Toonami gave the show the visibility it needed, and Cartoon Network's reach gave it clout.
Once again, the old adage about timing had been proven beyond all doubt. In 1997, it would have been very easy for the average executive to dismiss Sailor Moon as tried and failed. By early 1999, the show had over 100 million fans worldwide.
Then the ratings were measured, and the results floored everyone. Even Cartoon Network. By 1998, 82 episodes of Sailor Moon had been dubbed. This included the original 65-episode syndication package produced by DIC and the 17 episode balance of the second season.
During its run on Toonami, between 1998 and 1999, the 82-episode run was broadcast seven times. That means anyone who watched the show from the first Toonami episode to the last ended up watching the first and second seasons of the show seven times each.
Not once during that 560-plus episode run did the ratings drop below a 0.5. That means at least a half-million U.S. households sat through the same series of 82 episodes seven times. This was Star Trek level dedication that nobody was expecting, especially from an anime show most people had never heard of.
It proved there was a loyal fanbase in the United States that logically could not have come from Cartoon Network itself. These were fans that were already there and were already invested. Even if the television world didn't understand it, the results were clear and could not be waved aside or dismissed. Half a million households! It was a tiny fraction of the audience that populated the Internet.
The 21st century was right around the corner, and Sailor Moon was in exactly the right place at exactly the right time.