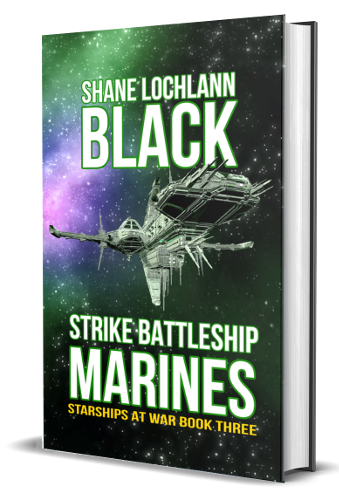 The following is a free chapter from the first book in my Starships at War military science fiction series Strike Battleship Marines
Annora Doverly knocked on the door of the executive inboard cabin. It was rare for the captain to summon individuals to his office. Everyone on board Argent knew by now her captain was far more comfortable with the idea of ad hoc conversations wherever he happened to find the people he needed at the moment. Whatever this was, it was about as formal as it ever got.
"Come."
Jason was seated at his desk, surrounded by paperwork. His cabin was somewhat better decorated than the average officer's, since he had made a habit of gathering trophies and souvenirs from his many travels as a pilot and flight officer. Several dark wooden shelves of memorabilia were arrayed behind him. He was wearing his blue and gray fatigues, which only added to Annora's unanswered questions. Jason Hunter almost never wore true combat gear aboard ship. He preferred his officer's duty uniform or some combination of academy sports organization t-shirt and workout gear. Silvered eagles adorned both collars and cover. He looked older and much more business-like than normal. Annora decided this was likely not an invitation to banter.
"Annora Doverly reporting as ordered."
"Thank you, doctor. Be seated."
The expression on Annora's face was one of an officer expecting the other shoe to drop. Once she was comfortable, Jason set down his paperwork.
"I just got some good advice from a hero of mine, so I'm going to cut through the formalities. I'm replacing you as executive officer, effective immediately. I'm also appointing Zack Commander Space Wing and bumping his number two to DSCOM flight leader."
It was like being hit in the chest with an artillery shell. Annora tried her best to conceal her emotions. Her first instinct was to interpret Jason's statements as a reprimand, but she knew better. At least she thought she did. She didn't reply right away.
"I could say it was the admiral's call, and I'd be right, but he didn't make it an order. So it's my call."
"I don't know what to say."
"Skywatch Command has been anxious about us since we crewed Argent. We've all been doing double duty. We've also been short-staffed since Jupiter Five, and now that we've got a chance to prepare, Powers wants this operation's capital platform at full combat capability."
"Komanov wasn't kidding when she said we were getting our pick of the store. Fleet finally decided a fighting doctor wasn't regulation?"
"I'm not busting you, Annora. Having an SAR command officer on my ship is a privilege not many captains get. It will earn us both a lot fewer raised eyebrows around the fleet if you're my Chief Medical Officer and you can train us both a qualified science staff. We're going to need them if we ever get in range of the Raleo system."
Annora had to admit the sudden change was startling but it did promise to take a fairly heavy burden off her shoulders. "Who is taking second chair?"
"Jayce nominated Sabrina Mallory. I agreed."
"She's junior to both Moo and myself."
"She's not a marine ground forces commander, nor is she a six-time decorated doctor and SAR officer. She's got advanced weapons training and she comes highly recommended."
"Jason, I respect your sister more than you know, but you can't train command officers in combat like this. Fury is a fine ship, but she's not a battleship. Commander Mallory has no space wing experience and no amphibious assault experience. Hell, she was just promoted from lieutenant a couple of weeks ago! She's got a year of school to finish before she takes command of a capital vessel. There's a hundred problems with this, any 99 of which could sink any chance we have before we get out of sight."
"She has two days. I'm relying on you to hit the high notes and leave the book study for a time when we're not up against the wall."
"Am I out of the command rotation?"
"Yili is in line after her promotion. Zony doesn't want command yet, especially after being pushed into the role at Bayone. She's not confident in her abilities, and I'm already forcing the issue with too many others. I want my SAR wing at full strength, and that means both the Tranquility and Nightwing crews and the entire Angel inventory need a leader. Without being too blunt, you're not going to have time to run the whole ship. What you are going to do for me is bring one hell of a lot of juice to Argent's emergency crews."
"Do I keep my rank?"
"Annora, you're not being busted. I want someone with your experience in charge of Sickbay and my science section. In six months you're going to be eligible for promotion to captain, and I can't think of a bigger step for you than to have your choice of medical assignments. We knew we were short staffed when we took command of this battlewagon. You did your duty far beyond any call, and you took the slings and arrows when certain fleet officers took advantage of your conflicting responsibilities. You're one of the best officers I've ever known, and you are by every measure the best combat pilot on this ship. You are the only officer in Skywatch history to assume command of an abandoned battleship under enemy fire. I will appear before any promotion committee in the future to enter my formal recommendation. You know that."
"I guess they can't call me Doctor Blood any more," Annora sighed. "I can't say I'm not disappointed, but I want what's best for the ship, Jason."
"I would expect nothing less."
Annora finally decided to ask about the winces she had noticed on Jason's face from time to time. "You're upset we couldn't go after Moo on our own."
"I don't like asking for help after bringing on 4800 reinforcements. I don't like being told Second Marines isn't up to the job. So yeah, I'm a little uptight."
"We can't invade Bayone yet. Half our strength hasn't even unpacked."
"But we can find a disabled ship. At least that's what my loadout says we can do. It bothers me when I've got 35 decks of trained personnel and the mission always calls for the three guys who don't have their shoes on yet. It occurs to me this ship is still bleary-eyed and dragging, so it's time for me to do some old-fashioned ass kicking before we go back to Bayone. We're going to finish what we started."
Doverly took that last remark as an implication Hunter wasn't going to lightly tolerate another lost crew member situation without an operational Search and Rescue wing.
"What are my orders?"
"Same as before. Hughes autopsy. Find me something I can use against Atwell. As my Medical Chief I'm ordering you to utilize whatever force is necessary to protect our evidence. I've already notified Commander DeMay I want him and his crew to grant you and your team full access to Dunkerque's records computers and sensor banks as necessary. Per my orders you are also as of now the ranking strike fleet medical officer."
"Understood."
"Admiral Powers has graciously provided us a set of choice transfers from Skywatch Medical Command. They're due in our last arrival, so let's get a list sorted and transmitted before the next watch rotation. I want both Tranquility vessels fully staffed, I want the Nightwing ready for action and I want Deck Sixteen to be the pride of the fleet when it comes to combat hospital facilities. There is nobody else in Skywatch who can do this, doctor. I need you and your team squared away in 24 hours, because there are nearly 900 marines in this formation about to go to war."
"We'll be ready, sir."
"Very well. Send in Commander Mallory."
Annora opened the cabin door and nodded. She slipped past the younger officer, who looked about as confused as the doctor had been a few moments earlier. Sabrina came to attention as Annora closed the door.
"Sabrina Mallory reporting as ordered, captain."
"Very well. Be seated."
Mallory stepped around the designated hot seat and sat rigidly with her cover in her lap.
Hunter grinned. "Sit at ease, commander. Now you're making me nervous."
Sabrina tried to relax, but she wasn't entirely successful.
"By order of Skywatch Command as of zero nine hundred hours Vicksburg time you are ordered to the post of executive officer of the battleship Argent with the rank of acting commander. Congratulations."
"Aye, captain." Mallory felt as if she had just been hit with a hundred volt shock.
"You have my permission to speak freely."
Sabrina held her breath. She was sure her face had changed color at least twice in the ten seconds since she had been given the news. "I was just promoted, sir. I'm not sure I– I mean perhaps there is someone else–"
"There's nobody else. I need a full-time executive. Commander Hunter has recommended you for your own command on at least three occasions. You've been at the top of Fury's promotion list for two months. It's time."
"But my post was aboard a cruiser, sir."
"And now you are in command of a battleship crew."
"Aye sir."
"We're going to war in two days."
A ball of ice landed in Sabrina's abdomen and spread throughout her legs and arms.
"There's a pair of silver leaves in this for you if we win. I will notify the crew. We'll set aside time for a honeymoon later. Do you have any questions?"
She considered asking but decided against it. "Not at this time, sir."
"Very well. You're with me. I have the first of three technical briefings today on Flight Two." Hunter attached his commlink and snapped his utility belt before checking his sidearm. "We'll need to get you properly outfitted and armed. Let's go."
Sabrina desperately tried to avoid looking like she was running along behind Hunter as he made his way to the lifts. More than once she heard crew members and officers alike shout "attention on deck!" Dozens and dozens of personnel froze and stood at attention as he passed them in passageways, cabins and compartments. The ship seemed unusually crowded, which wasn't surprising, since Argent's head count had increased by a factor of six since the last Bayone engagement.
Finally they reached the lifts. Hunter spent the interval fiddling with his commlink. Sabrina felt like there was a ten-thousand-watt spotlight following her around. She knew Argent's command structure. She had been a junior officer only a few weeks ago. How could she possibly command this behemoth? She was aboard a flying city!
The magneto-lift descended twenty-two levels before arriving on the Flight Two loadlane. There were hundreds of people working the deck. Two yellowjacket fighters were suspended by magnetic arms in the center of the ship's central launch facility. One group of technicians was re-arming them while another was cycling their fuel components. Behind the angry-looking Jacks loomed one of the heavy gunships of Tarantula Hawk Green. Its wings were raised in a belligerent pose. A maintenance crew was hurrying in and out of her side entry hatch with electronic analysis equipment. At the far end of the flight bay were nine more Wildcat fighters parked next to several racks of Bullfrog compression torpedoes.
"Duncan!" Hunter shouted over the din. "What's Command One's status?"
Sabrina was busy trying to take it all in when she heard a near-deafening honk. Bright white headlights surrounded her in a stark glow. She found herself in the way of a full-sized truck. After running a few more steps, the fuel transport lumbered past her and pulled up under the wing of one of the Jacks. Finally she caught up with the captain again.
"Six more hours, sir!" Duncan Buckmaster was wiping grease off his hands with a small rag. In his work gear he looked like a cross between your favorite bartender and a linebacker with a beard.
Sabrina could not get over the sheer size of it all. At the extreme far end of the deck was an immense open bay. Beyond it was the blackness of space. Thirty stories overhead, white LED light bars were arranged in a grid across the ceiling and its six enormous service lifters. Flight Two was the largest of Argent's three launch facilities, covering an area of more than 12 football fields. The forward section of the deck housed three oversized railtunnels, each capable of launching corvettes, gunships or Mackinac drop-ships for armor and ground vehicles. They were the heavy variations on the smaller fighter-only launchers on the ship's lateral flight decks.
Beneath the commander's feet was the rest of the Flight Two facility, housing roughly one-third of Argent's fighters, ten corvettes, all 26 gunships and half of her 68 Paladin mechs, along with their weapons, fuel, spare parts and machining facilities. Unlike the pure warship design of a vessel like Fury, Argent was a hybrid, capable of fighting well in both ground and space engagements. And now that she was fully equipped, the new battleship could launch and direct nearly 200 spacecraft and deploy as many as 900 marine mechanized infantry.
"Duncan, I'd like to introduce you to our new executive officer. Sabrina, this is Duncan Buckmaster, Chief of the Battleship."
"Welcome to Argent, ma'am," Buckmaster nodded. It went without saying he wasn't going to offer her the opportunity to cover her own hands in grease. "Honor to serve with you."
"Nice to meet you in person, COB," Sabrina replied. She had only seen that many service stripes on a uniform in person once before in her career: Her father's. If she were being honest with herself, she would have admitted Buckmaster reminded her of him a little.
"The Gatos are still banging their cups about those new missiles, sir. Now the arming mechanisms are turning themselves off unexpectedly."
"Item sixty-three hundred on my list of eight thousand things to do, Master Chief. As soon as I get the commander up to speed we'll be a little less frantic around here. When you get a chance, can you chase down Lieutenant Roscoe and have him report to my deck two cabin at 1300?"
"Aye," Buckmaster replied.
"Is my technical briefing still in there?" Hunter asked as he headed for the launch tunnel.
"Hell no," Buckmaster replied. "Someone might steal it!"
Hunter rolled his eyes and made a dismissive gesture at the grinning crew chief. Sabrina realized she had been left behind again and ran to catch up.