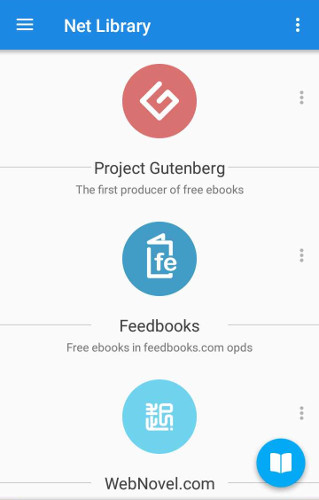 So there you are. You've just sold your first book from your very own bookstore. Your customer has a download link. And then everything comes to a screeching halt.
How do they read your book? Where is the book? How do they get it from your store to their device? Who's brilliant idea was this?
The little bridge that separates the teeming hordes of readers from the teeming hordes of ambitious authors is book delivery. Without it, no books get to readers, and that makes everyone sad. So how do we get a book from our own store to a phone or a tablet?
Long ago, some smart people got together and created something called "extensible markup language." It combined all the best parts of HTML with all the best parts of application development, and gave developers a way to publish arbitrary data in a standard way. You've used XML quite a bit if you've ever visited a podcast menu or read an EPUB or visited a site with a sitemap. Mobile apps use XML as a versatile data format.
XML is going to help you build that bridge between your store and your customer's mobile device with a protocol called the Open Publication Distribution System. The Android phone screenshots you see here are the OPDS menus in an application called Moon+ Reader. The "Net Library" feature of this and other EPUB readers like Aldiko allows a user to subscribe to an OPDS feed the same way they subscribe to an RSS feed. Instead of a list of articles, they get a list of books. When they tap on the books, they are downloaded to the mobile device and immediately available to read.
If you think about it, this is exactly the same mechanism all other retail electronic bookstores use to distribute e-books to mobile devices.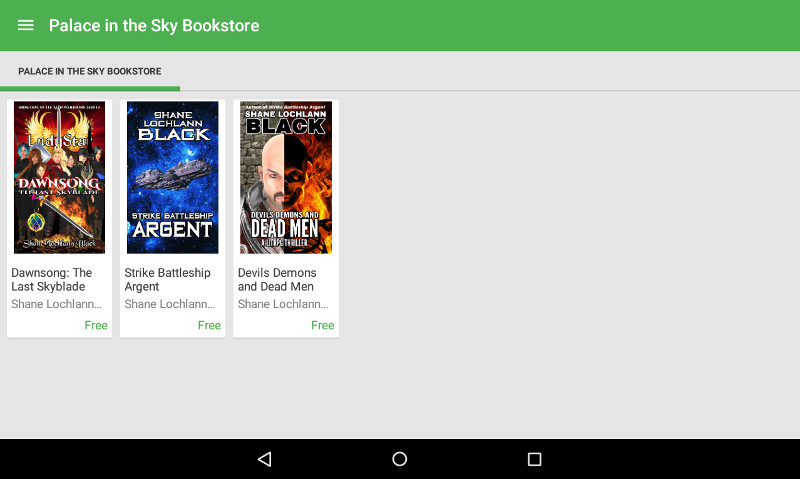 The tablet screenshot is from Aldiko running on the Kindle Fire.
You'll also notice that some heavyweight book publishers out there, including the Gutenberg Project and Smashwords, use OPDS-compatible feeds not only to distribute books, but to sell them too. Now it is possible, naturally, to give a reader a download link and let them sideload their book, but a feed is better for a number of reasons. My store uses it to maintain a catalog of purchased books for each customer on a cloud server. Since this is their continuously updated list of available books, I can even throw in some freebies, newsletters, or pretty much anything else I want my readers to download and try out. All I have to do is add it to their feed and it's delivered.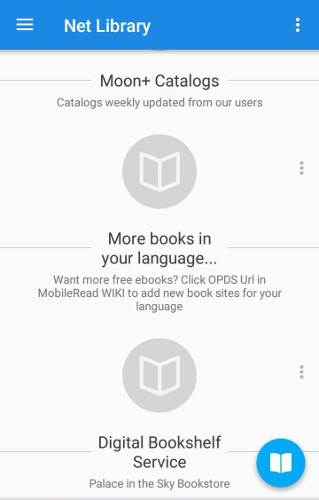 Now you might be asking yourself why any author would want to go to all this trouble just to get books to their customers. Couldn't someone else handle that for you? Sure they could, and they're going to charge you an unbelievable amount of money to do it. In fact, the more books you sell, the more it's going to cost you. Now are you really going to pay someone large sums of money on a regular basis to perform a service this simple?
For the time being, maintaining feeds for your customers is going to be a manual process. However, getting a standardized e-commerce service like Shopify to "notify" your site and update a database when you sell a book is a rather straightforward technical feature. For that matter, setting up a nice front-end for the service on your feed server is equally simple for a moderately capable web developer. OPDS feeds are all text and can be automatically generated by a database. As my Digital Bookshelf service grows, I'll need to write that software for my cloud server and perhaps I'll be able to make it available to other shops.
For most authors, this is the last piece of the "open your own bookstore" puzzle. Publishing content directly to mobile devices (and desktops for that matter) is quite powerful, as any YouTube channel owner will tell you. From there, it's a simple matter of training your readers to use it and fielding the occasional technical support request.
The main reward for this extra work is that those readers are your customers. And isn't that ultimately what every author wants?
Take a look at my other articles on how to open your own bookstore:
P.S. This is Moon+ Reader running like a Swiss clock factory on a Kindle Fire and wow, does it make my books look good!